European pond turtle conservation program in Greater Poland
Species name: EUROPEAN POND TURTLE Scientific name: Emys orbicularis Country: Poland Project website: www.magazyn.salamandra.org.pl/m39a17.html European pond turtles, which are the only naturally occurring turtles in Poland, have been under strict protection in our country since 1935. Despite the protection, they are still classified in the "Polish Red Book of Animals" as a very high-risk
Description
Species name: EUROPEAN POND TURTLE
Scientific name: Emys orbicularis
Country: Poland
Project website: www.magazyn.salamandra.org.pl/m39a17.html
European pond turtles, which are the only naturally occurring turtles in Poland, have been under strict protection in our country since 1935. Despite the protection, they are still classified in the "Polish Red Book of Animals" as a very high-risk species, threatened with extinction. The population living in Greater Poland is particularly valuable and little known.
It can live up to 110 years in the wild. The European pond turtle is a lowland species and its habitat is water that only females leave to lay eggs. It lives in small, overgrown lakes, forest ponds, swamps, densely overgrown and hard to reach oxbow lakes, large ponds and slowly flowing rivers with dense vegetation.
It is a predator, it hunts and feeds only underwater. It eats water insects and their larvae, snails, clams, tadpoles, frogs, and small fish. It also doesn't despise carrion. It swallows the smaller prey whole and grabs the larger prey with its jaws and tears it apart with its claws. It is hunted by raccoon dogs, otters, foxes and badgers.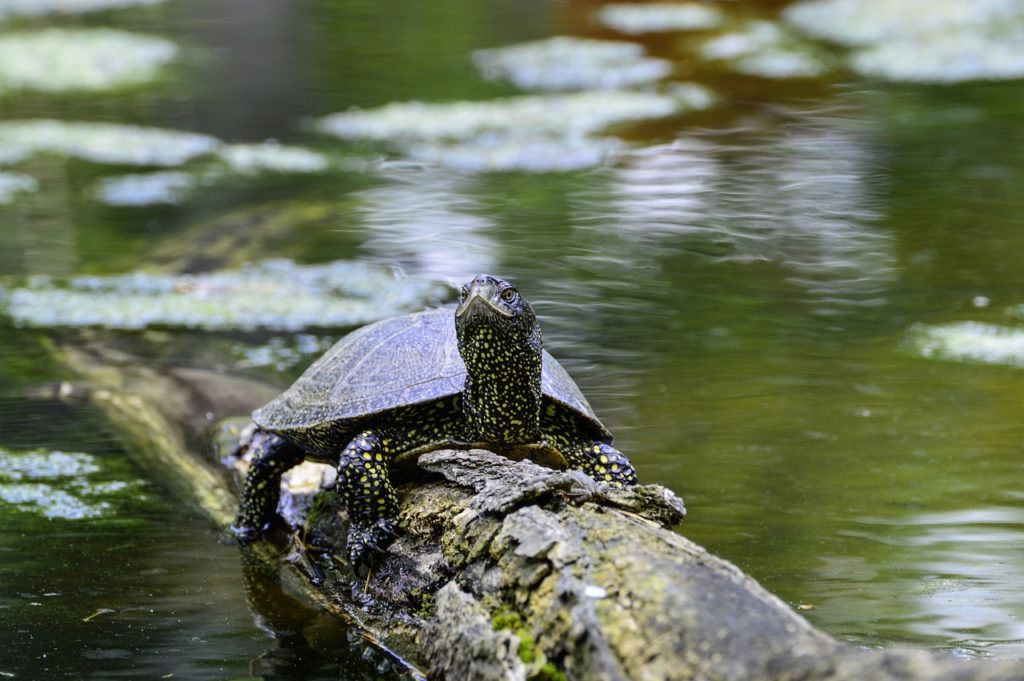 In the past, pond turtles were found in all Polish lowlands. Currently, they can only be found in national parks and nature reserves.
What is threatening them?
The main cause of the extinction of European pond turtles in Poland and Europe is the development of agriculture as well as massive and poorly conducted melioration. Water pollution and competition for food and breeding grounds from invasive species – e.g. pond sliders, which, thanks to us – humans, often end up in nearby ponds and rivers, also contribute to the disappearance of the species in Europe.
What we do
We provide financial support for the CHELONIA European pond turtle protection program run by the Polish Society for Nature Conservation "Salamandra". Our support helps:
– carry out daily telemetry monitoring from May to July and regular inspections of the station until the spring of the following year,
– protect the nesting chambers against damage (marking, installation of nets, education of farmers),
– conduct catches in order to place transmitters and monitor the population also in new places where the presence of turtles has been located or suspected,
– replenish hardware deficiencies (chest waders deteriorate, from walking in swamps, the need for solar power for camera traps, telemetry receivers require repairs and adjustments)