Sumatran tiger conservation project
Species name: SUMATRAN TIGER Latin name: Panthera tigris sumatrae Country: Indonesia Project website: www.conservewildcats.org Sumatran tigers are a critically endangered species. There are only about 400 left in the wild! Unless we take action, this extremely rare big cat faces imminent extinction. The Sumatran tiger is the smallest subspecies of tigers. An adult male weighs
Description
Species name: SUMATRAN TIGER
Latin name: Panthera tigris sumatrae
Country: Indonesia
Project website: www.conservewildcats.org
Sumatran tigers are a critically endangered species. There are only about 400 left in the wild! Unless we take action, this extremely rare big cat faces imminent extinction.
The Sumatran tiger is the smallest subspecies of tigers. An adult male weighs about 140 kg, a female only 90 kg. Both the body weight and the darker and more densely spaced stripes are adaptations to life in the tropical rainforest. This species leads a solitary lifestyle, the female can be seen accompanied by the male only during the heat period and then with the offspring, which remains with the mother for 2 years. Sumatran tigers are excellent hunters, hunting large and small game (e.g., tapirs, wild pigs, deer). They feel perfectly at home in water, so fish often appear in their diet.
Fossils of tiger remains in China show that the species has been around for 2 million years! Unfortunately, the greatest threat to their continued survival is human activity, particularly poaching. So-called traditional Chinese medicine claims countless benefits to the consumption of wine made from tiger bones, which obviously lacks any medical basis. Tigers also fall into snares being set up en masse by poachers to hunt other animal species in Sumatra. Another threat is habitat loss and fragmentation. The natural habitat of Sumatran tigers used to be lowlands and plateaus, but due to the development of plantations in these areas (oil palm and coffee) they "retreated" to the mountainous areas of Sumatra.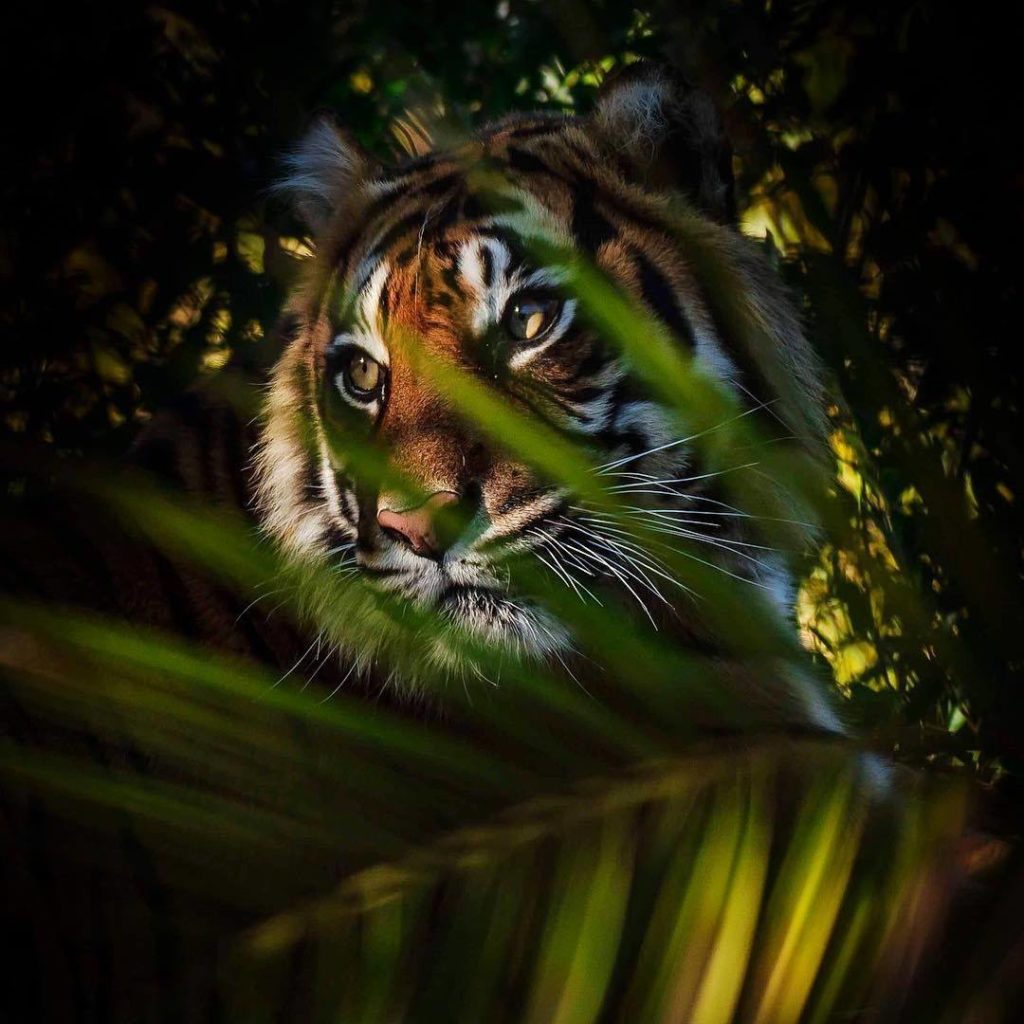 What we do?
Together with Wroclaw Zoo we support the tiger conservation program in Sumatra in Kerinci Seblat National Park run by WildCats Conservation Alliance. The park is currently home to 33% of the world's population of these animals, so any conservation action saves this species from extinction. Thanks to our support it is possible to patrol the park, prevent poaching, remove snares (in recent years 70 poachers were arrested!). Talks are also held with local people and authorities to reduce poaching and find alternative sources of income.