African Penguin Conservation Program
Species name: AFRICAN PENGUIN Latin name: Spheniscus demersus Country: Republic of South Africa Project website: www.sanccob.co.za The African penguin is an endangered species (EN). Since 1900, the population has declined by more than 95%. Extinction is accelerating! In 2000, the population size was estimated at 53,000 pairs, in 2020 only 17,700 pairs. Cape penguin rescue
Description
Species name: AFRICAN PENGUIN
Latin name: Spheniscus demersus
Country: Republic of South Africa
Project website: www.sanccob.co.za
The African penguin is an endangered species (EN). Since 1900, the population has declined by more than 95%. Extinction is accelerating! In 2000, the population size was estimated at 53,000 pairs, in 2020 only 17,700 pairs.
Cape penguin rescue program at SANCCOB
Established in 1968, the organization's primary objective is to reverse the decline of seabird populations through the rescue, rehabilitation and release of ill, injured, abandoned and oiled seabirds on the coast of South Africa. Most attention, strength and resources are focused on saving African penguins (Spheniscus demersus) from environmental disasters caused by oil spills from tankers. So far, the foundation has saved over 97,000 seabirds of various species, which without human help, stuck with oil, would not have had the slightest chance of survival. Another threat to penguins in South Africa is overfishing in coastal ocean waters. Breeding pairs are not able to feed the young when there are not enough fish in the immediate vicinity.
Each year, SANCCOB rescues hundreds of discarded, late hatched or orphaned cape penguin chicks. They also deal with the artificial incubation of found, abandoned eggs. Since 2001, when the project was created, the SANCCOB Foundation has saved and released over 8,400 chicks into the natural environment!
Wrocław Zoo has been supporting SANCCOB's activities since 2015. For two years, during the Easter campaigns, money was raised for the adoption of 120 penguins. The zoo also sent a penguin zookeeper to Africa to help rescue orphaned chicks there.
Cape penguins in their natural habitat are threatened by:
– tanker disasters and oil spills (one of the busiest sea routes runs off the coast of South Africa) – how to help? reduce driving, buy local products!
– plastic contamination – how to help? use reusable packaging, recycle plastic!
– climate change affecting the course of sea currents (and fish stocks) – how to help? reduce greenhouse gas emissions, save electricity!
– ocean overfishing – how to help? buy fish from a reliable source!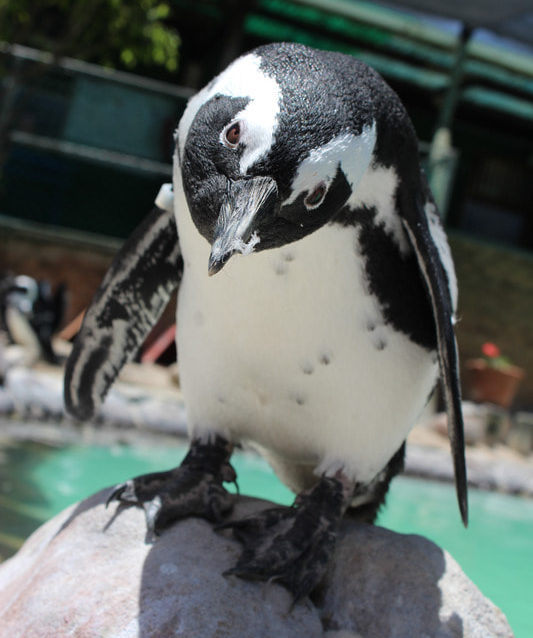 In November 2017, Wrocław Zoo sent Paweł Borecki – the zookeeper of penguins and fur seals to South Africa. His task was to support the #SANCCOB foundation, which saves sea birds, in caring for abandoned chicks of African penguins. An extra pair of hands is often the most valuable support because, without human help, these birds would not have the slightest chance of survival.